This blog post was written by Victoria L. Freeman, Ph.D., CHFS, CMH.
When "Richard"* (name changed to protect his privacy) came to see Dr. James Evans, he did so after struggling for some time with a mindset and behaviors associated with perfectionism. This struggle was harming family relationships and his sleep was restless, which affected many areas of his physical and mental health. Understandably, Richard was discouraged. Dr. Evans, a Biblical Counselor and Coach and Executive Director of Community Christian Counseling in Terre Haute, Indiana, knew that Richard's mental, physical, and spiritual health were intertwined. He also knew that these facets of Richard's life were negatively affected by his attempts to be perfect and to control his surroundings and the people in his life. Evans explains, "Richard was particularly hard on his son and grandson, but a break-through came when we discussed Ephesians 4:29 from the Bible: 'Do not let any unwholesome talk come out of your mouths, but only what is helpful for building others up according to their needs, that it may benefit those who listen.'" After reflection, Richard realized he had not been a good encourager toward those that love him.
Evans also reviewed with Richard Ephesians 4:22-24: "You were taught, with regard to your former way of life, to put off your old self, which is being corrupted by its deceitful desires, and to be made new in the attitude of your minds; and to put on the new self, created to be like God in true righteousness and holiness." In other words, this scripture passage explains that we can turn away from unhealthy life patterns and choose different thoughts and motives, all made possible by the Lord's help and Holy Spirit.
Richard did his homework and came in to see Evans a week later. On his return, it was obvious Richard was a new man spiritually, emotionally, and physically. Regarding this change in Richard, Evans explains, "We cannot change the past, but we can learn from it, be thankful to God for His help and presence, and begin setting a new course. Richard learned that being perfect is a hopeless goal, but shining the light of Christ in the world is a perfect one."
Richard's case illustrates that drawing on the Bible to improve our spiritual outlook can enrich our mental and physical health. But it's also a two-way street: a body or mind out of balance can also impair our spirit. This is why we, at Trinity School of Natural Health, focus so strongly on the concept of holistic health – mind, body, and spirit. It's virtually impossible to separate the effects of one aspect of health from the others, either positively or negatively.
While it may be true that other spiritual disciplines offer insight into holistic health practices, Trinity is a Christian school. So, when we seek health advice from a spiritual resource, we turn to the Holy Bible. And, what a resource it is!
Biblical Health Insight
What does the Bible have to say about health? Quite a lot! It's amazing that a book providing spiritual guidance can also provide wisdom for different aspects of health. But, to have that be true for a book comprised of 66 separate books written by 40 authors over a 1,500-year period, with the most recent text being completed 1,925 years ago, is downright astonishing! Yet that's what we have with the Bible.
B. J. Palmer (son of D. D. Palmer, founder of chiropractic) once said, "The power that made the body heals the body." As Christians, we look to God as the source of that creative power, and since the Bible is the Word of God, we begin with it and other Biblically-based resources for health insight. Let's explore together some Bible-based health guidance.
Nutrition
So whether you eat or drink or whatever you do, do it all for the glory of God. ~ 1 Corinthians 10:31
In his book, What the Bible Says About Healthy Living, Rex Russell, M.D. offers three timeless nutritional principles2:
1. "Eat only substances God created for food."
Simply put, if God didn't create it, we shouldn't be eating it. For example, on Russell's list of things to avoid are processed, manufactured, pre-packaged "foods." As tempting as they may be, God did not make pretzels and powdered donuts. Consider, though, the wholesome options suggested in the book of Genesis. Genesis 1:29 states, "Then God said, 'I give you every seed-bearing plant on the face of the whole earth, and every tree that has fruit with seed in it. They will be yours for food.'" And Genesis 9:3 says, "Everything that lives and moves about will be food for you. Just as I gave you the green plants, I now give you everything." In his book, Russell provides a lengthy list of specific foods mentioned favorably in the Bible, like almonds, fish, goat's milk, lentils, and honey. The bottom line is this: Except for poisonous, spoiled, or otherwise defiled foods, virtually any plant-related, natural food and anything that moves is God-approved! It's up to you to make choices that work best for your body.
2. "As much as possible, eat foods as they were created – before they are changed or converted into something humans think might be better."
Examples of foods humans have sought to improve but wrecked in the process include genetically modified organisms (GMOs) and refined, processed flours and sugars. Reflected in this second principle is a strong spiritual truth: Our attempts to be God by "improving" His design and intentions for our health generally will not end well. Russell writes, "In our consumptive and pleasure-seeking culture, we often concoct additives, chemicals and processed foods that take us away from our Creator's excellent design for nutrition." A better approach is to let God be God and follow His divine design.
3. "Avoid food addictions. Don't let any food or drink become your god."
This principle is derived from the first Biblical commandment in Exodus 20:3: "You shall have no other gods before me." God has provided plenty of wholesome, nutritious foods for us to eat, Russell says, but when we allow them to consume our attention, they become idols or addictions, replacing God as first in our lives. As holistic health practitioners, we know that both acute and chronic health conditions can result from any addiction or overconsumption, as illustrated by one of the most common addictions – alcohol. Virtually every major system in your body, including your brain and nervous system, liver, heart and vascular system, and muscles and joints, suffers greatly when alcohol becomes your god. From this perspective, God's wisdom is clear. Things like food, money, or work are wonderful blessings as long as they aren't taken to extremes, but gluttonous behavior in any form has negative consequences. The Bible warns us of this outcome in Proverbs 23:20-21: "Do not join those who drink too much wine or gorge themselves on meat, for drunkards and gluttons become poor, and drowsiness clothes them in rags."
Fitness
Do you not know that your body is a temple of the Holy Spirit within you, whom you have from God? You are not your own; you were bought at a price. Therefore, honor God with your bodies. ~ 1 Corinthians 6:19-20
In Biblical times, people didn't need to plan exercise. Their whole life was about moving, so it's not surprising that we don't find many specific scriptures about physical exercise. However, in a popular faith, food, and fitness program called The Daniel Plan: 40 Days to a Healthier Life, co-creators Rick Warren, D. Min., Daniel Amen, M.D., and Mark Hyman, M.D. introduce the concept of being "Daniel Strong."3 An important characteristic that sets a Christian health plan apart from secular programs is the idea that we don't have to face challenges in our own strength; we can also draw strength from God. To that end, The Daniel Plan is based on a man from the Bible named Daniel, who many people know from the night he spent in a lion's den and miraculously escaped unscathed. Daniel's true strength was in his character and dedication to his faith in God. He prayed three times a day, every day, even under threat to his life for doing so. Daniel and his small cohort also chose to defy the king's orders by adhering to their personal cultural nutrition plan, which consisted primarily of consuming vegetables and water instead of eating the fatty meat and wine provided by the king. Today, however, The Daniel Plan nutritional component consists of lean, organic protein, fruits, vegetables, nuts, and seeds.
As the Bible story goes, when Daniel and his group's physical and mental condition were compared to those consuming the king's diet, Daniel's group was judged to be far superior. They tended their body temples well, and by being "Daniel Strong," they were, as The Daniel Plan says, "fit to serve"3. That is, they intentionally pursued excellence in mind, body, and spirit, all for service to and the glory of God.
The Significance of Spiritual Health
The human spirit can endure in sickness, but a crushed spirit who can bear? ~ Proverbs 8:14
Evans and his client "Richard"* discovered that a strong and healthy spirit is the bedrock of all other health. "We are a spirit that has a soul and we live in a body," says Dale Fletcher, M.S., founder and executive director of Faith and Health Connection, a nonprofit Christian health ministry in South Carolina1. What people see on the outside is just the body that helps us to function and live in this world, but when we go to a deeper level, we find a soul where our will, emotions, and mind reside, explains Fletcher. Go deeper still and you find the spirit. It's only when Christ comes into your life, and you're filled with the Holy Spirit, that your spirit then has the capacity to be renewed.
So many people focus on changing their outward appearance, doing things from a body perspective that can work for the short-term, Fletcher says. But if we are connected to God in a personal way, it's that inner spiritual strength and the power we have there that enables us to bring about lasting changes affecting our mind and emotions, which affect our physical behaviors and health. A powerful quote from Hal Lindsey, author of The Late Great Planet Earth, further underscores the importance of a spiritual health perspective: "Man can live about forty days without food, about three days without water, about eight minutes without air...but only for one second without hope." From reading Proverbs 13:12, we know the Bible concurs: "Hope deferred makes the heart sick, but a longing fulfilled is a tree of life."
Some of the healthiest human qualities there are, like joy, peace, and hope, flow from our spirit, and God gives us the ability to have these spiritual qualities regardless of our circumstances. Consider this encouragement from Romans 15:13, "May the God of hope fill you with all joy and peace as you trust in Him, so that you may overflow with hope by the power of the Holy Spirit."
It's clear the Bible does describe many things we can do to be healthier, but that is not the most important health instruction it has to offer, Evans says. "The greatest holistic health insight from the Bible is not so much about what to do, but more about how to be."
~All scripture verses are from the New International Version (NIV) Bible.
What we covered here is only a glance at the health-related insight contained in the Bible. If you're interested in learning more, check out Trinity's Certified Biblical Coach program.
References
Fletcher, D. (2009). "Connection Between the Christian Faith and Health," YouTube Video Interview, https://www.youtube.com/watch?v=pvz_249sIfg. https://www.faithandhealthconnection.org/.
Russell, R. (2014). What the Bible Says About Healthy Living: 3 Principles That Will Change Your Diet and Improve Your Health. Revell Publishing: Grand Rapids, MI.
Warren, R., Amen, D. and Hyman, M. (2013). The Daniel Plan: 40 Days to a Healthier Life. Zondervan Publishing: Grand Rapids, MI.
ABOUT THE AUTHOR: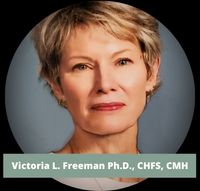 Victoria L. Freeman, Ph.D., CHFS, CMH has traveled a long and winding professional road that includes working as a teenage fine artist, later a personal trainer and wellness coach, a college professor and administrator in exercise science and education, a freelance natural health and fitness writer for national magazines, a property manager and interior designer for vacation and executive rental properties and most recently returning to the natural health arena while attending Trinity School of Natural Health to become a Certified Holistic Fitness Specialist and a Certified Master Herbalist.